Are you looking for KFC Ramadan Deals 2023? If yes, then you are in the right place. Welcome to the Latest Menu Prices, Here at Latest Menu Prices, we update the Pizza Hut Deals for Karachi. Here we will provide you with all the details related to Pizza Hut Deals for Karachi. Please have a look at KFC Ramadan Deals 2023:
BUT WAIT!!! WE HAVE SOMETHING SPECIAL FOR YOU!!! 
Soon we are also launching our different services where you can order your favorite food online through our website. When you order through our website (Latest Menu Prices), you will get an extra 2% – 5% discount on your order.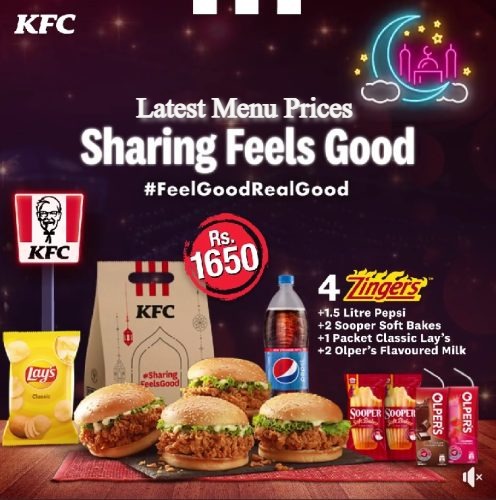 KFC Ramadan Deals 2023
Latest Menu Prices know you are excited for Ramadan 2023 and love eating burgers, fries, and coleslaw from KFC. KFC Pakistan offers their customers Ramzan Sehri Deals 2023 and Ramzan Iftari Deals 2023. They are offering Ramadan 2023 Deals for individuals, duos and families. It means you can enjoy KFC also in Sehri and Iftari. Latest Menu Prices mentioned all the KFC Ramadan Sehri and Iftari Deals below, have a look:
So are you looking for KFC Ramadan Deals 2023? Yeah yeah, we know because you love KFC like us. KFC Pakistan offers KFC Ramadan Deals 2023, in which you have to pay Rs. 1650 and you will get the following items:
4 Zinger
1 Packet Classic Lays
1 Olper's Chocolate Milk
1 Olper's Strawberry Milk
2 Choco Lava packs
1.5 LTR Drink
2 Sooper Soft Bakes
KFC Jazz Cash Offer
You don't have cash? Ah Oh! But wait are you a Jazz Cash user, or do you have a Jazz Cash account? Do not worry. Now you can enjoy KFC deals with Jazz Cash. Now you can order your favorite KFC deals through Jazz Cash using the Jazz Cash QR code.
KFC Ramadan Timings Pakistan
Remember that the KFC Pakistan timings are different in Ramadan than in regular days. KFC Pakistan will open 2 hours before from Aftar (Iftar). It means you will enjoy their meal also in Ramadan. So order your favorite meal and enjoy the month of Ramadan with happiness and lot of blessings.

I hope all Muslims are enjoying the month of Ramadan 2023, and we wish you Happy Ramadan 2023 and a Happy Eid Ul Fitr in Advance. Thank you so much for visiting our website, "Latest Menu Prices". 🙂